From Tony Thompson, January 2015
I just finished reading Bee Balm Murders, which my wife gave me for Christmas. I loved it! We spend about three weeks each year on the Vineyard, in Oak Bluffs at my wife's best friend's home. She recently lost her husband so I spend my time fishing and helping with the upkeep of her home.
This was my first book of yours that I have read. I enjoyed how you used Island locations and "thinking" to draw the reader in. I know you probably receive many ideas from your readers so I will be no different: Ever thought of writing a book that occurs only during the Striped Bass and Bluefish Derby? The influx of 3,000 fishermen could make for a much more complicated storyline, along with fishermen who are tight-lipped about their fishing spots, rules and catches. Just a thought.
Have a great winter and I look forward to another one of your books in the near future.

Cynthia's reply
Good idea. One of the members of our Wednesday Writers Group is known as "The No. 1 Fisherman on Martha's Vineyard." Her name is Janet Messineo. She's won the Derby in the past, and is a taxidermist when she's not fishing from 3 am to 12 midnight. When she's not fishing or mounting fish specimens, she's working on a book about the Derby and her life. She's a published writer with numerous articles in fishing magazines. I can use her for my consultant.
Thanks for the email. Be sure to let me know next time you're on Island. I love meeting someone who's read my books.

From Alan Osowski, Orange City, Fla., August 2014
It was a pleasure listening to you and meeting you on the American Star. I spoke to you about obtaining an autographed copy of Shooting Star as you did not have any available on board that day. My son is very active in community theater and has performed in over 50 stage productions throughout central Florida.
If you are able to find an extra copy, I would greatly appreciate it if you could autograph it and possibly add an inspirational comment. Talent begets talent, and I am sure he would treasure any words of wisdom you might impart.

From Joyce Dresser, Martha's Vineyard, August 2014
I have this habit of accumulating books, putting them down, reading something else, and finally going back to what we had bought. Recently I noticed Indian Pipes in our bookcase and opened it. It was marvelous! I so enjoyed it. Your characters have distinct personalities, the tempo was good, the suspense riveting, and the denouement a complete surprise! I would find myself doing a chore thinking about the characters and wondering what they were doing. I just wanted you to know how much I enjoyed it. I look forward to reading another of your mysteries. Well done!

From Nancy Byrne, July 2014
Our family is from New York, and we have been summering on Martha's Vineyard for 42 years. We rent the same home in Oak Bluffs, and our daughters literally grew up there and still return each summer. One has bought a condo, and our youngest got married at the Sailing Camp two years ago. Our third moved to Australia but comes as often as she can.
We love and have read all of your books. We have the collection, minus one that is currently out of print.
We are so excited to hear about your marriage to Howard, which is a new chapter in your life. Congratulations. We read the cute article about your "traveling chicken" in the Vineyard Gazette and loved it.

From Barbara Wilson, July 2014
The last week in May my husband and I cruised the islands off Providence, and you appeared to tell us stories! Loved it!
While you were signing my book, Double Murder on Martha's Vineyard, I asked if any of Victoria's friends ever called her Tori. I mentioned Tommy Lee Jones having a daughter named Victoria, but she goes by Tory.
I'm thinking an old flame of Victoria's, a good-looking 92-year-old ex-classmate on Martha's Vineyard, returns and he, of course, still calls her Tori (or Tory). Any chance?
So far I have read eight more of your books and have four more ordered.
Getting close to 92 myself, I relate a bit!

From Pat McCarl, June 2014
I just finished reading The Bee Balm Murders and find that they hold my interest from page 1. I have read all your books except the last couple, and I will try to get them on the Kindle.
I just bought two books for a friend to take on a trip (she is 82). I am sure when she gets back, she will let me know she enjoyed them and start reading them more often.

From James Pletcher, Uniontown, Pa., June 2014
Just finished your book Poison Ivy. What a great read. Wow. You were stacking the bodies up like cordwood. I always enjoy Victoria's demeanor, calm in the face of so much death. You do a wonderful job of telling the story and giving my mind's eye something visual about the setting. When is your next book coming out? Can't wait to read it.

From Heidi Havens, May 2014
I am currently reading all of your books again. I was spending a lot of time in hospitals over the past few years for my mother. I donated all of your books to them. I was missing my grandmother and now my mother, and your books make me feel a little closer to them. They are so lovely that I have bought them twice!
You really have meant so much to me. I have loved your books, but you are also an inspiration.

From Susan Feller, May 2014
I've just finished my fifth Cynthia Riggs mystery and cannot tell you how enjoyable I find them. I love going online to your website and seeing the house and the cookroom/mudroom.
I will be reading the rest of them this summer, before my annual visit to the Vineyard. What fun!

From Rilla Pezzopane, April 2014
Hello! I'd like to say I just discovered your books and have read four. I'm starting on the fifth. I love Victoria!! I don't, however, enjoy the language used by the police. I realize this is "true to life" and the way many people express themselves these days, but does it have to be?
Thanks for listening.

From Mrs. Pam Pardue, Myrtle Beach, S.C., April 2014
I must express my extreme gratitude and thanks for your generous gift of your latest book, Poison Ivy. I am an avid fan of Victoria Trumbull and her adventures in West Tisbury. With each book, I find I get to know and appreciate her investigative skills more. I enjoy the interplay and historical background that Victoria has with the other inhabitants of West Tisbury. Who would have imagined that Victoria would be a college instructor and solve a murder at the same time?
I cannot thank you enough for the generous gifts to both me and my library, Carolina Forest Branch of Horry County Library in Myrtle Beach. Both the head librarian and I were astounded by your graciousness and kindness in sending us autographed copies of Poison Ivy.

From Louis Schmuck, Hubbard, Ohio, March 2014
Thank you very much for everything you have done already. My wife is so over the moon that she was able to speak with you. I know she will treasure her signed copy of Poison Ivy. Thank you again. You are a lovely lady and it was my pleasure speaking with you today.

From Marianne Gould, Albany, N.Y., March 2014
I discovered you fairly late in my life (I am in my 77th year), but reading your books has certainly enhanced my "golden " years! In addition to enjoying stories about the ocean community of Martha's Vineyard, and the family connections of Victoria, I have had many fun hours trying to write the poetry forms that Victoria scribbles on various pieces of paper! I've had more luck with the sestina than with the villanelle, but I thank you also for (inadvertently) introducing me to Sylvia Plath's "Mad Girl's Love Song." I look forward to your new books.

From Roslyn M., Vancouver, B.C., March 2014
I have read with great relish all of the Martha's Vineyard novels and am therefore incredibly disappointed to be unable to find your ebook Poison Ivy anywhere. Any ideas?
It seems I can never get enough of reading books about Martha's Vineyard, a place I've never been.

From Sheila Gustafson, Plymouth, Mass., 2014
Just finished reading Touch-Me-Not and I have to say I had no idea who the killer was until the end. Good job in keeping a mystery.
I have just about all your books and I want to say "Thank you" for adding to my mystery entertainment. Now if a movie was ever made of one of the books or a combination of a few of them, it would be the crowning glory. I am a huge fan of Murder, She Wrote, and your Victoria Trumbull is right up there with Jessica Fletcher.

From Bruce Steinbicker, Asheville, N.C., 2014
Has anyone, in the decade since Jack in the Pulpit was published, mentioned to you that church sexton Hal Greene died twice? Several days ago I asked you what book Lockwood appears in and have just started to read it again. I have read Jack in the Pulpit at least three times and missed that until now.
On page 10 of the paperback edition Hal dies in the ambulance en route to the hospital. On page 18 the last sentence says he died a week later.
Having been in the newspaper business back in another lifetime I do know how it feels to have a major error jump out and hit you as the paper rolls off the press so this is not pointed out to you in a gloating or negative way.
You mentioned Lockwood is based on your ex. I am not sure whether you deserve a medal for tolerating him for 25 years or if you should be reprimanded instead. I have no tolerance whatsoever for men who abuse women.

From Kathryn Shaw, September 2011
I just finished Paperwhite Narcissus and I want to tell you just how much I enjoyed your references to Phil Craig and J.W. [the sleuth in Craig's mystery series], down to the Sam Adams beer and the plovers.
I found J.W. at the library about two-thirds of the way through the series and then picked the books off the shelf as they became available. I got to Vineyard Chill and got a horrible shock when I found out that Phil had passed away. I just assumed that when I got caught up with the series, I'd get to live with J.W., Zee, and the kids as new installments were annually released.
Now I'm reading your books in order. I really like to read mysteries that have a strong sense of place.My only question is how does time stand still for Victoria? Seasons come and go and bodies pile up like cordwood and Victoria is still 92. I just turned 70 and the days are streaking by faster than ever.
Besides the good writing, interesting characters, and strong sense of place, this series had given me a chance to distract myself from the endless Florida summer heat and humidity. I like to think what it might be like to wear a sweater at night in June in West Tisbury. In Sarasota it's 82 degrees at midnight in June. Yikes.

Cynthia's reply
Thanks for writing. Phil Craig was a good friend, and just as you imagine him. A true gentleman, although he'd roar with laughter at the thought of being called "gentleman." Shirley, Phil's wife, is a good friend and is much like Zee. She and Phil collaborated on a wonderful cookbook called (of course) Delish! The cookbook has all the recipes you need in a single cookbook, and as Phil said, "No recipe should be longer than four inches."
I'm delighted that you've discovered the Victoria Trumbull books. When my very first book was published, Phil and I were at a book signing together. He had stacks of his 13 or so books all around him and a lineup of people waiting for his autograph. I'd spread my one book out on the table so it looked like more than one. Fans would approach Phil: "Oh, Mr. Craig! I just Love your books!" and he'd say, "If you like my books, you'll have to try Cynthia's." I resolved at that time to do the same for any new writer I could promote. I miss him a lot.
You asked about time standing still for Victoria. I realized when I established her as a 92-year-old protagonist that if I planned to write 20 books, I'd be in trouble if I allowed her to age. So time in the background will always be the present, and Victoria will remain 92 throughout. For a reader, this is called "a willing suspension of disbelief."

From Martha Fisher Staples, August 2011
I wanted to tell you about when I met your mother for the first time, since you describe her so well in your books.
In the early 1960s I was Mary in the Christmas play at the church. For a few years, Lambert's Cove Methodist did the play with West Tisbury Congregational. Your mother would pick us up in her light blue VW, and I got to ride up front, since I would be good. (Alma Benson told me that!)
Anyway, my oldest brother was singing the part of the third wise man, and he sounded so wonderful, I got teary-eyed, and your mom said I was a very good Mary, and the tears made me look the part. She was a gem, and I am glad I got to meet her! I have read most of the Victoria Trumbull series. Just need to read two I missed. Keep them coming!

Cynthia's reply
Thanks so much for the delightful view of my mother. I love hearing about her from someone who was touched by her. I remember that VW, and of course you would get to ride up front since she knew you would behave. I'm glad you like the Victoria Trumbull books.

From Bernadette Bristow, Auckland, New Zealand, July 2011
I have been able to escape to a world far away from New Zealand. Learning to quietly watch and listen with Victoria as she walks around her island home. I love Victoria's gumption, her ability to keep on when the body wants to let her down and the joy she finds in the people, creatures, and plants around her. Such a inspiration.

Cynthia's reply
I didn't realize Victoria Trumbull had traveled to New Zealand. I visited your beautiful, interesting, and varied islands a number of years ago on my way to and from Antarctica, and remember Wellington, Christchurch, and the glacial streams of South Island fondly. Thank you for writing from so far away.

From Karen Noble, July 2011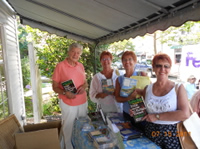 I'd like to thank you for your gracious hostessing of our impromptu visit this afternoon. As an avid reader and having thoroughly enjoyed your books, it was such a thrill to change my "mental imaging" of Victoria's life, and making it a reality. My sisters keep saying I was like a "kid in a candy shop" meeting you. I look so forward to meeting you again at the book signing in Edgartown. Again, many thanks for your graciousness.
IN THE PHOTO: From left, Cynthia, Karen Noble and twin sister Sharen Clugston, and Rosalie Tyrrell.

From June Rickard, July 2011
I wanted to tell you how much I enjoy your mysteries, in particular the venue. I had never been to Martha's Vineyard until my son moved there about seven years ago. Now with three grandchildren growing up there, we have gotten to know it well. I love when I know the place or spot to which you refer. For instance, I have picked up both my grandsons from Featherstone art classes. I felt the same way when I read Philip Craig's novels.

Cynthia's reply
Thanks for your e-mail. I'm honored to be compared with Phil Craig, a wonderful man and a good friend. His J. W. Jackson stops in at my Victoria Trumbull's house to get some information in one of his books. What fun that was to suddenly come across.

From Chris Dreyer, Chilmark, Mass., June 2011
I don't know if you got the idea about knitting a "reef quilt" from the international project that is going on now. It is called the Hyperbolic Crochet Coral Reef. People all over the world are forming groups and crocheting coral reefs. They are quite amazing and you can see one of them on the Smithsonian website.

Cynthia's reply
That was pure coincidence! I got the idea of mathematical knitting from a friend who was knitting Mobius strip headbands, and in looking up "mathematical knitting" on the Internet found all sorts of wonderful shapes. I knew about the AIDS quilt, and I'm concerned about coral reefs, so I thought a coral reef quilt might be different. After Touch-Me-Not was published, someone sent me a copy of Smithsonian Magazine with the article on the Hyperbolic Crochet Coral Reef.
I also heard from a knitter who scolded me for knitting (rather than crocheting) a coral reef quilt.

From Tami Caporaso, Waterbury, Conn., June 2011
I attended your book signing Friday night in Vineyard Haven, and thoroughly enjoyed listening to not only your excerpts, but the tale of your journey as an author. I found the idea of the low-residency master's program in writing that you spoke of intriguing. I never really knew that they existed, and as a mother of five children ages 15–22, that format is probably the only one that will be workable for me. I've been chipping away at community college classes in writing for starters, but I know I need more.
I've since sent for information on the program you spoke of at Vermont College, and just wanted to thank you for the boost in a new direction.

From Dorothy Malkin, Vancouver, B.C., June 2011
I am writing from Vancouver, British Columbia. (where unfortunately our Vancouver hockey team just lost to the Boston team and a large handful of miscreants embarrassed the rest of us).
I am truly loving your series and am going back to ensure I haven't missed one along the way. I often travel over to Victoria (on Vancouver Island) by ferry to visit my-94 year-old mother and get caught up in the picturesque views of the small islands on the way over. Your books remind me of those islands.
I just wanted to say thank you for the books – and your main character, who is a real "treasure."

Cynthia's reply
This morning I said goodbye to my hockey player grandson (Ohio University) after a week-long visit. Wonderful to have someone around who can open jars with a simple twist of the wrist and reach things on high shelves.
Thanks for writing. I think islands have a special magic of their own, whether they're on the west or east coast. Please say hello to your mother for me.

From Cynthia Riggs to Bruce Steinbicker, June 2011
In the Martha's Vineyard Mystery Series book I'm writing now, Poison Ivy, I intended the character named after you, the TV star Bruce Steinbicker, to make a simple cameo appearance on the porch of Alley's Store. However, the character insisted that he play a larger role . This is a problem writers often face. A character takes over and there's not much we can do about it. But since our character, Bruce Steinbicker, decides to have a dalliance with a woman other than his wife, I thought I should let you know in case this might cause problems for you in your personal life. If so, I can give our Bruce S. character an alias.
Please let me know whether or not you're comfortable with being loosely identified with our naughty Bruce Steinbicker, as I'm in the home stretch.

Bruce Steinbicker's reply
I'm fine with this and when I showed your message to my wife of 49 years, she just laughed. Glad to know you are in the home stretch with Poison Ivy.

From Ella Surrette, Hendersonville, N.C., June 2011
I have just discovered your Martha's Vineyard mystery series. I started with Bee Balm Murders and then read Touch-Me-Not – I love them. Victoria Trumbull reminds me so much of my late grandmother – so spunky and interested in everything – and there is, of course, her gardening. Thank you so much for writing this series.
I live in Hendersonville, North Carolina, and we have a favorite author here, Ann B. Ross, who has written a series about "Miss Julia." We who live here know that it is written loosely about our town and our characters! We also had another author nearby, Lillian Jackson Braun, whom we saw quite frequently when a new Cat Who . . . book came out – she lived in Tryon, which is about 15 miles away. She, sadly, passed away last week at the age of 97.
Since you are a poet, you may have heard of a friend who grew up with me here in Hendersonville – Robert Morgan. We played together as children and are still in frequent contact. He has been a professor at Cornell for about 30 years, I believe.
Bottom line – love your books because they tell of your town and your people. I visited Martha's Vineyard once while on a trip to Cape Cod – it is just wonderful and I still have my Black Dog mug and cookbook.
Please come to the mountains of North Carolina sometime and enjoy our culture and our beautiful scenery.

Cynthia's reply
Thanks so much for your e-mail. I'm delighted to know that you read not only The Bee Balm Murders, but Touch-Me-Not. Victoria, as you may have guessed, is based on my mother (she was the poet, I'm not), who died when she was almost 99. A grand lady, and I think she would have been pleased to see herself as a young 92-year-old sleuth.
Thank you, too, for your invitation to the mountains of North Carolina. They must be lovely right now with rhododendrons in bloom? Or has the season passed? I was sorry to learn of the passing of Lilian Jackson Braun. I love her Cat Who . . . books. But 97 is a good long productive life, and I guess we mourn for ourselves and the books of hers we won't get to read.

From Richard Williams, June 2011
I was the fortunate winning bidder on the gift you kindly provided for the recent auction to support Windemere's Recreation Department. I was pleased to be able to support the Windemere program, especially since my mother-in-law is a resident there. And I would be proud to be included--in any fashion--in one of your future mysteries. This is especially fun for me because your publisher,Thomas Dunne, is a friend of mine. I look forward to hearing from you at the appropriate time.

Cynthia's reply
Congratulations on winning your name in one of my forthcoming books. And thank you so much for contributing to the Windemere auction. It's a pleasure for me to be able to help in my way. Windemere is a great asset to the Island and is such a welcoming place. When she was well up into her nineties, my mother, on whom my protagonist Victoria Trumbull is based, used to "read to the elderly" (her words – most of whom were considerably younger) every week at Windemere.
I was delighted to learn that Thomas Dunne is a friend of yours. His imprint, Thomas Dunne Books, St. Martin's Press, has been my publisher since my first book was published in 2001.
The book I'm working on now, number 11, is called Poison Ivy. It deals with academic politics. After talking to enough academicians about their problems, I decided the book needed a serial killer. It looks as though Richard C. Williams may end up being the Vineyard Haven harbormaster.

From Jim Pletcher, May 2011
Your last book kept me glued to it for two days. Love your writing and Victoria and her friends. However, I was a little disappointed in the ending. I think it would have concluded more dramatically if you had stuck with Victoria's goal of outing the killer at the book signing. That might be an old-hat way of doing it (like Poirot or Marple) but I thought the end became anticlimactic the way it was written. Just offering my own opinion. I am not a novelist; just a faithful reader. Keep the books coming, please.

Cynthia's reply
Thanks for your comments – it's always helpful to get feedback from a reader who understands how to make a book better. I wouldn't mind having Victoria's exploits compared with those of Poirot and Miss Marple.

From Martha Waldemar, March 2011
I have really enjoyed reading your books and love the details on the plant life. However, Victoria needs to age – or stop solving most of her problems in the fall season. There aren't enough days to solve all her mysteries during that time period.
The first book I read was Indian Pipes and I really like it best of those I have read. I grew up in the Columbia Gorge in Oregon (and was very happy to see that Victoria got a shooting star plant from Oregon), and looked forward to my July birthday picnic and trail hike at a National Forest park in the Gorge. Occasionally, I would find some Indian pipes and the first time I picked one to take home. I quickly found out that they did turn black with an inky mess – even if they had been put into water.
A year ago we spent a week on Cape Cod and did a very short day trip to Martha's Vineyard. We did bus hopping to tour the main part of the island, and I refer to the bus map to get a feel for where everything is happening.

Cynthia's reply
When I decided to pattern Victoria after my mother, who died when she was almost 99, I knew I might have problems with age if I wrote a series. At the time, I had gone back to school for my MFA in creative writing, and decided to research how various authors handled the passage of time in their series. I found that authors did everything from keeping their characters the same age and their setting the same period throughout the series (Sir Arthur Conan Doyle's Sherlock Holmes), to having each new book in the series three months later than the previous one (Sue Grafton's Kinsey Millhone) to having the characters stay the same age and let time pass in the background (Rex Stout's Nero Wolfe).
I figured that if Archie Goodwin, Nero Wolfe's sidekick, can be dating the same woman throughout the series while time ranges from the Roosevelt era to Nixon, I was in good company if I did the same with Victoria Trumbull.
I hope my readers are willing to suspend their disbelief at a 92-year-old protagonist (I had to make her much younger than my mother) who never ages, while technology is whooshing by in the background. Since I started the series, only ten years ago, DNA analysis has become much more sophisticated, we can no longer find pay phones or telephone booths, and weapons like tasers are common.
Please keep reading my books – I'm delighted to hear from you. I'll try to set more of the stories in spring and summer.

From Pat McCarl, March 2011
I just wanted to let you know I have just discovered your books and I am really enjoying them very much. They are fun to read and I can read them alone in the house without being terrified. I also love the fact that they take part on Cape Cod with that wonderful sleuth Victoria. I just hope I can be as spry and bright at 93 as she is, and I do not have far to go since I am already 75 (I do not know how I got so old). I have family that comes from the Cape (Nickersons) so we have been up to the family togethering. Hopefully next time we are up there you will be speaking somwhere so that I can meet you. Please keep writing since they are great.
I love Philip Craig's books also and I think you could tell from his books he must be a wonderful gentleman. I have also read the ones he wrote with W. Tappley. All great. I felt like I had lost a friend when he passed away.

Cynthia's reply
Thanks for writing – I'm delighted that you like Victoria Trumbull and her adventures. I spoke last week at the Snow Library in Orleans on the eastern Upper Cape, so I do get off Island occasionally. Nickerson is a great Cape and Islands family name. We are probably related in some way.
You don't really need to read the books in order. I wrote them as stand-alones, and actually Jack in the Pulpit was the first one I wrote, but the fourth one published!

From Virginia, March 2011
I am enjoying your Martha's Vineyard mysteries and wondered if you could tell me who created the cover art. They are all beautiful!

Cynthia's reply
Thank you for your e-mail. The artist who created all ten of the covers is Ken Joudrey, who lives in California. I'm very fortunate to have him as the cover artist – many authors don't like their cover art. So far, I've acquired all of the original paintings for my covers and have hung them where everyone can see them.

From Nancy Weaver, West Tisbury, Mass., January 2011
I loved reading Touch-Me-Not. Thank you for including the arboretum – and for accurately depicting a very welcoming visitors center staffed by a friendly volunteer!!!
I came away smiling.
Note: Nancy was previously the Visitors Center manager and volunteer coordinator at the Polly Hill Arboretum in West Tisbury, where some of Touch-Me-Not takes place.

From Mary Jeannette, January 2011
A dear friend of mine, Mrs. Fran Gingher, visited the Vineyard and stayed at your inn a couple months ago. She and her lady friend Pete Quail had a most delightful time. She had been reading your books for years, and often spoke of you and your writing. It was such a joy for her to be able to travel to the Vineyard, where my husband and I have been vacationing for nearly 20 years. For my birthday in October, she brought me back a copy of the September-October 2010 Martha's Vineyard Magazine, which contained the article "The Niantic," which was such a joy to read! And it, too, was signed by you, which just makes it a treasure.
Fran's birthday is coming up on April 2. I would like to give her something really special. I checked your website recently, and found that your latest book, The Bee Balm Murders, is coming out in April. I wonder if I can conspire with you to give my friend Fran a once-in-a-lifetime gift! I'd love to get an autographed copy of your book to give to her.
If this is something you are willing to do, I would, of course, gladly reimburse you for the cost of sending a copy of the book to me, as well as the book itself.

Cynthia's reply
Thank you for your e-mail. I had such a delightful visit from Fran and Pete, and look forward to another visit sometime in the near future. The two were great fun to have around.
What a lovely idea to give her an autographed copy of The Bee Balm Murders. The best way to do this is for you to order the book from the Bunch of Grapes bookstore. When you place the order, ask that they contact me to come to the store and sign the book to Fran. Let them know if you have any special message you'd like me to include. I'll be happy to go to the bookstore to sign the book for her. How thoughtful of you to think of this.

From Beth Belgard-Crader, Richmond, Va., January 2011
I recently was introduced to your work by someone and have found your books delightful. For many years I lived on Cape Cod (Hyannis and Barnstable) and made many trips to the Vineyard. All your descriptions of the people and places bring my memories right back up. Today I finished reading The Cemetery Yew and it was great. It went a bit faster than I thought it would but every scene was perfect. Thanks so much for your writings and I wish you many more years of doing so. I do have one question — A real U.S. Coast Guard Masters License for 100 tons?? Isn't that a bit unusual?? Happy New Year to you and I wish only the best for you in the new year.

Cynthia's reply
Thanks so much for your e-mail. Richmond is far from Cape Cod. Do you get back occasionally? My book number 9, Touch-Me-Not, was published this past August, and number 10, The Bee Balm Murders, is scheduled for publication this April. After number 20, I plan to retire to yet another career.
There are quite a few female boat captains around now, still not as many as there should be. A noteworthy one is Capt. Linda Greenlaw, a swordfishing captain who's written at least four books, a couple of them best sellers. I hope you keep reading my books, and thanks again.