Home of the late poet and writer Dionis Coffin Riggs (1898-1997), the Cleaveland House has always been a meeting place for Island intellectuals. Built by Mrs. Riggs's ancestor James Athearn, a judge during the Revolutionary War, the house has been in the family for more than 250 years.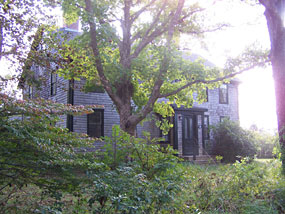 The house was modernized in the mid-1800s by her grandfather, Capt. James Cleaveland, a retired whaling captain, and he and his wife Mary Carlin Cleaveland opened the Cleaveland House to boarders.
In the 1950s, Mrs. Riggs and her husband, artist and educator Dr. Sidney N. Riggs, installed electricity, running water, and an indoor bathroom. An upstairs bath was added in the 1980s.
The Cleaveland House has the charm -- and inconveniences -- of a two-and-a-half-century-old house. Large, airy rooms, a fireplace in one of the three guest bedrooms, antique bedsteads and furniture, shared baths (access to the downstairs bathroom is through the kitchen), small closets, and no television. It also has the dynamic feel of eight generations of living by a noted Vineyard family.
Mrs. Riggs and her daughter Cynthia, a mystery writer, opened the house as a bed and breakfast catering to poets and writers in 1988. Since the death of her husband, Dr. Howard Attebery in February 2017, Cynthia is again running the B&B herself.
We invite you to share it with us for a few days -- or more.
GUEST ROOMS
The three guest rooms are all corner rooms on the second floor. They share the same bath.
The East Chamber with king-size bed and fireplace. $175/night.
The Indian Room with single bed. $150/night.
The West Room with twin beds. $175/night.
The East Chamber and the Indian Room are adjoining, and may be engaged as a suite or as individual rooms. Visit our GUEST ROOMS page for more information and photos. A continental breakfast is served, compliments of the house, from 8 to 10 am. We request no smoking in the house or on the grounds.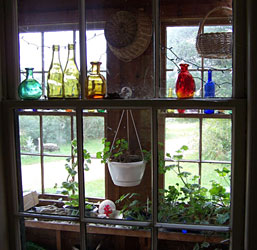 WEDNESDAY AFTERNOON POETRY WORKSHOP
Join Island poets for the Wednesday afternoon poetry workshop, usually held on alternate weeks. Bring your own poems to read, join in the critique session, or simply listen. The meeting runs from 3 to 5 pm.