Now Available by Mail Order!
Several titles published by Cynthia's Cleaveland House Books are hard to find if you venture far from Martha's Vineyard — but you can order them through this website!
If you prefer to order by phone or mail, instructions are on the order form for each title.
Here are the books, all of which are in trade paperback format: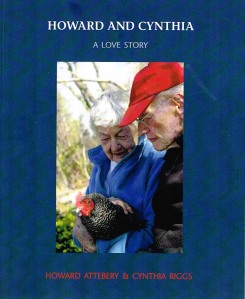 • Howard and Cynthia: A Love Story. This is the true but incredible romance that has inspired millions, told in the lovers' own words and lavishly illustrated with photographs.
• From Off Island, by Dionis Coffin Riggs. First published in 1940, this riveting novel of the great age of whaling is based on the life of the author's grandmother, Mary Carlin Cleaveland — great-grandmother of mystery writer Cynthia Riggs.
• Murder on C-Dock. Set on the Washington, D.C., waterfront, where author Riggs lived in a houseboat for 12 years. We're all hoping this will be the first of a new series!
• Double Murder on Martha's Vineyard. This handsome volume collects two early out-of-print entries in the Martha's Vineyard Mystery series: Deadly Nightshade and The Cranefly Orchid Murders.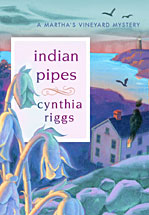 • Indian Pipes. Plans are afoot to build a casino on Martha's Vineyard, and the stakes are high enough to provoke murder, mayhem, and the unearthing of family secrets.
• Poison Ivy. The trade paperback edition of a recent Martha's Vineyard Mystery, in which academic infighting turns fatal.
• Victoria Trumbull's Martha's Vineyard. Already a classic, this Vineyard guidebook is like no other. A must-have for fans of the Vineyard's pre-eminent sleuth!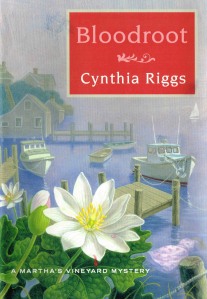 Bloodroot is the latest entry in the Martha's Vineyard Mystery series. Going to the dentist becomes even more scary when an elderly patient dies suddenly in the examining chair. Her four grandchildren don't regret the loss, but three of them are shocked to learn they've been cut out of her will.
"Unstoppable Cynthia Riggs"
That's the title of a profile of Cynthia featured in the current issue of Martha's Vineyard Magazine. It includes some tidbits that may surprise even longtime fans.
Did you know that in 1948 Cynthia qualified for the Olympic fencing team? That she's crossed the Atlantic twice in a 32-foot sailboat? That she was reportedly the seventh woman ever to set foot on the South Pole?
And it includes this priceless photo of two-year-old Cynthia riding on the shoulders of her mother, poet Dionis Coffin Riggs, the model for the indomitable sleuth Victoria Trumbull.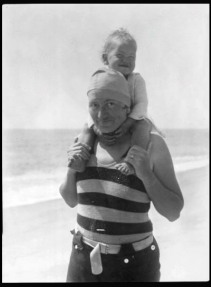 In August 2015 Cynthia was awarded the Martha's Vineyard Medal, given by the Martha's Vineyard Museum to honor "leaders in the community who have had an outstanding commitment to preserve the history, arts, and culture of the Island."
In her acceptance speech, Cynthia noted her family's long association with the museum and its predecessor, the Dukes County Historical Society. Her father, Dr. Sidney Riggs, founded The Dukes County Intelligencer, a twice-yearly journal featuring articles and images about Vineyard history.
She also praised the creativity and vitality of Island people and was pleased to accept the award on their behalf.
Read the whole speech on Cynthia's Martha's Vineyard Mysteries blog.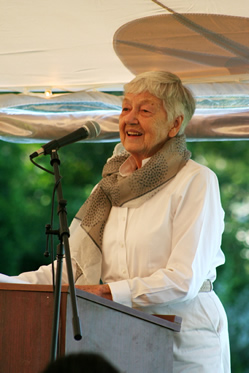 * * * * * * * * * * * * * * * * * * * * * * * *
Plot twists happen in real life as well as in fiction!
One of them happened to Cynthia in 2012: a man she'd worked and become friends with as a college intern in 1950 got back in touch.
One thing led to another, and after several months of exchanging letters, emails, and photos, Cynthia went west to San Diego to visit her long-ago colleague, Howard Attebery.
In 1950 Cynthia was 18. Howie was 28.
In 2012 — well, you do the math.
To make a long and wonderful story short, they became engaged. READ MORE...
• For 12 years, Cynthia lived on a houseboat on the Washington, D.C., waterfront — and she's put her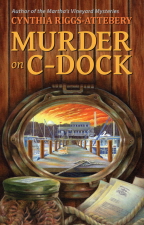 nautical experience to nefarious use in Murder on C-Dock, the first in her new D.C. Waterfront Whodunit series. When Commodore Dunn is murdered, there's no shortage of suspects: everyone on C-Dock had reason to wish him dead. Persie Lee Butler's sleuthing soon turns up a web of secrets that goes back 30 years — and puts her own life in danger. Murder on C-Dock features a stunning cover by Martha's Vineyard artist Elizabeth R. Whelan, a sailor herself who knows her boats.