In Cynthia Riggs's Martha's Vineyard mysteries, we follow one of fiction's most delightful and most realistic amateur detectives. Victoria Trumbull is a feisty ninety-two-year-old who refuses to let the aches and pains of age stop her from enjoying her multifarious activities. Oh, and you just might catch her serving baked beans on a Saturday night.
Cynthia's Books
• Available on Kindle

: Deadly Nightshade, The Cranefly Orchid Murders, The Cemetery Yew, Jack in the Pulpit, Poison Ivy,Bloodroot, and Trumpet of Death. Look for the Kindle icon throughout this site.
• From Off Island by Dionis Coffin Riggs, Murder on C-Dock, Poison Ivy, Indian Pipes, Double Murder on Martha's Vineyard, Daphne of Martha's Vineyard, and Victoria Trumbull's Martha's Vineyard are now available by mail order direct from Cynthia's Cleaveland House Books. See each title's page for details.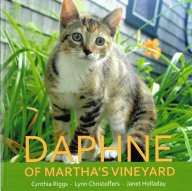 Daphne of Martha's Vineyard, Cynthia's first children's book, isn't just for children: it's also for cat-loving read-aloud adults of all ages. Starring Daphne, the Cleaveland House feline in residence, the book is a collaboration with peerless cat photographer Lynn Christoffers, whose work is featured in Victoria Trumbull's Martha's Vineyard and in her own Cats of Martha's Vineyard.
It's available by mail order from Cleaveland House Books.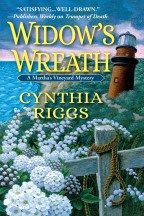 Widow's Wreath, the 14th in the Martha's Vineyard Mystery Series, has just been published by Crooked Lane Books. Victoria Trumbull agrees to host the wedding of her young cousin Penny to Rocco Bufano -- but this marriage was not made in heaven.
Penny and Rocco are each convinced that the other's wealth will solve their financial woes. Trouble is, they're both flat broke. Then a body is found hanging in Victoria's basement, and no one knows who it is. But by odd coincidence, it looks a lot like Rocco.
Howard Attebery, 1922–2017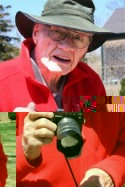 Howard Attebery, beloved husband of Cynthia Riggs, scientist, engineer, dentist, photographer, and co-star of a love story for the ages, died peacefully at Cleaveland House, West Tisbury, Martha's Vineyard, on February 1, 2017.
Howie wrote his own obituary, which is quite wonderful and which you can read on the Vineyard Gazette website: "Howard Attebery, A Quiet Man Who Loved Company."
The book he co-authored with Cynthia, Howard and Cynthia: A Love Story, is now available exclusively from The Moth Radio Hour. Please contact info@themoth.org for ordering information. For more about the book, click the link at left. This photo of Howie is by Lynn Christoffers.
Now Available by Mail Order!
Several titles published by Cynthia's Cleaveland House Books are hard to find if you venture far from Martha's Vineyard — but you can order them through this website!
If you prefer to order by phone or mail, instructions are on the order form for each title.
Here are the books, all of which are in trade paperback format: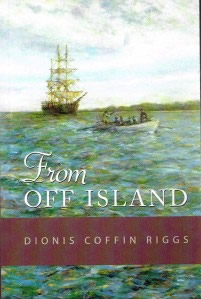 • From Off Island, by Dionis Coffin Riggs. First published in 1940, this riveting novel of the great age of whaling is based on the life of the author's grandmother, Mary Carlin Cleaveland — great-grandmother of mystery writer Cynthia Riggs.
• Murder on C-Dock. Set on the Washington, D.C., waterfront, where author Riggs lived in a houseboat for 12 years. We're all hoping this will be the first of a new series!
• Double Murder on Martha's Vineyard. This handsome volume collects two early out-of-print entries in the Martha's Vineyard Mystery series: Deadly Nightshade and The Cranefly Orchid Murders.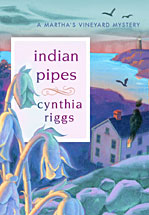 • Indian Pipes. Plans are afoot to build a casino on Martha's Vineyard, and the stakes are high enough to provoke murder, mayhem, and the unearthing of family secrets.
• Poison Ivy. The trade paperback edition of a recent Martha's Vineyard Mystery, in which academic infighting turns fatal.
• Victoria Trumbull's Martha's Vineyard. Already a classic, this Vineyard guidebook is like no other. A must-have for fans of the Vineyard's pre-eminent sleuth!
"Unstoppable Cynthia Riggs"
That's the title of a profile of Cynthia featured in the December 2016 issue of Martha's Vineyard Magazine. It includes some tidbits that may surprise even longtime fans.
Did you know that in 1948 Cynthia qualified for the Olympic fencing team? That she's crossed the Atlantic twice in a 32-foot sailboat? That she was reportedly the seventh woman ever to set foot on the South Pole?
And it includes this priceless photo of two-year-old Cynthia riding on the shoulders of her mother, poet Dionis Coffin Riggs, the model for the indomitable sleuth Victoria Trumbull.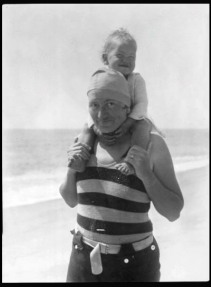 About Cynthia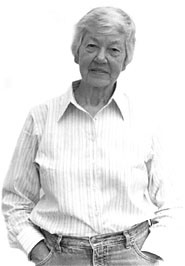 "One should know by now never to underestimate Ms. Riggs. Educated as a geologist, she taught at the Annapolis Sailing School, lived on a 44-foot houseboat for 12 years while running the Chesapeake Bay Ferry Boat Company, was a rigger at Martha's Vineyard Shipyard, and in her late 60s, she earned an MFA in creative writing from Vermont College, and has, in each ensuing year, produced one of the Vineyard-based, Victoria Trumbull mysteries." by C.K. Wolfson, Martha's Vineyard Times BIOGRAPHY
We'd like to hear from you. Drop a note to cynthia@cynthiariggs.com.
Visit our Media Page for photos and biographical information.